Poromies Magazine
Poromies (reindeer herder) is a professional magazine of reindeer herders. It is for reindeer herders as well as stakeholders and others interested in reindeer herding.
The Reindeer herder magazine has been published since 1931. Years between 1945-47 have been marked as one volume.
Editor-in-chief Anne Ollila
Subeditor Tarja Konstig
Poromies magazine
Order printed Poromies magazine:
kirjaamo@paliskunnat.fi
Note! Poromies magazine is only published in Finnish.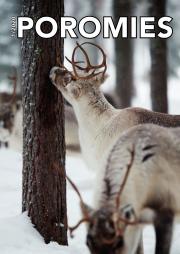 Mediacard
Media card 2022 (in Finnish)
Advertising: please contact
tarja.konstig@paliskunnat.fi
+358 400 633 159.
The Editorial Board
Ollila Anne
—————–
Angeli Maaren
Jortikka Aarre
Kela Sarai-Natalia
Kenttälä Janita
Konstig Tarja
Sanaksenaho Vilma
Torikka Ritva